Plan Your Day in Monterey Bay
Plan your day on Monterey Bay as your adventure begins in the quaint fishing village of Moss Landing, with the harbor located directly at the mouth of the Monterey Bay Submarine Canyon. This means less travel time and more whale watching time! The Goddess Fantasy is a pristine vessel Coast Guard certified for up to 150 passengers and the Sea Goddess is certified for up to 93 passengers and manned with more than 40 years experience
Our goal at Sea Goddess Whale Watch is to leave you in awe of the magnificent whales and other sea life the Monterey Bay is world renowned for.
As we head out of the marina, you will enjoy some of our inner coastal marine mammals such as the sea otter, harbor seals, and a variety of sea birds. Directly out of the harbor is where all the whale activity begins! Keep your eyes open for the largest animal on the planet – the Blue Whale, our acrobatic Humpback Whale, and our lovable gray whale. Learn how to spot a whale and familiarize yourself with more Monterey Bay marine mammals so you know what to look for.

Safety and comfort are our top priority for all our guests. So scream, point and delight with others on this adventure of a lifetime!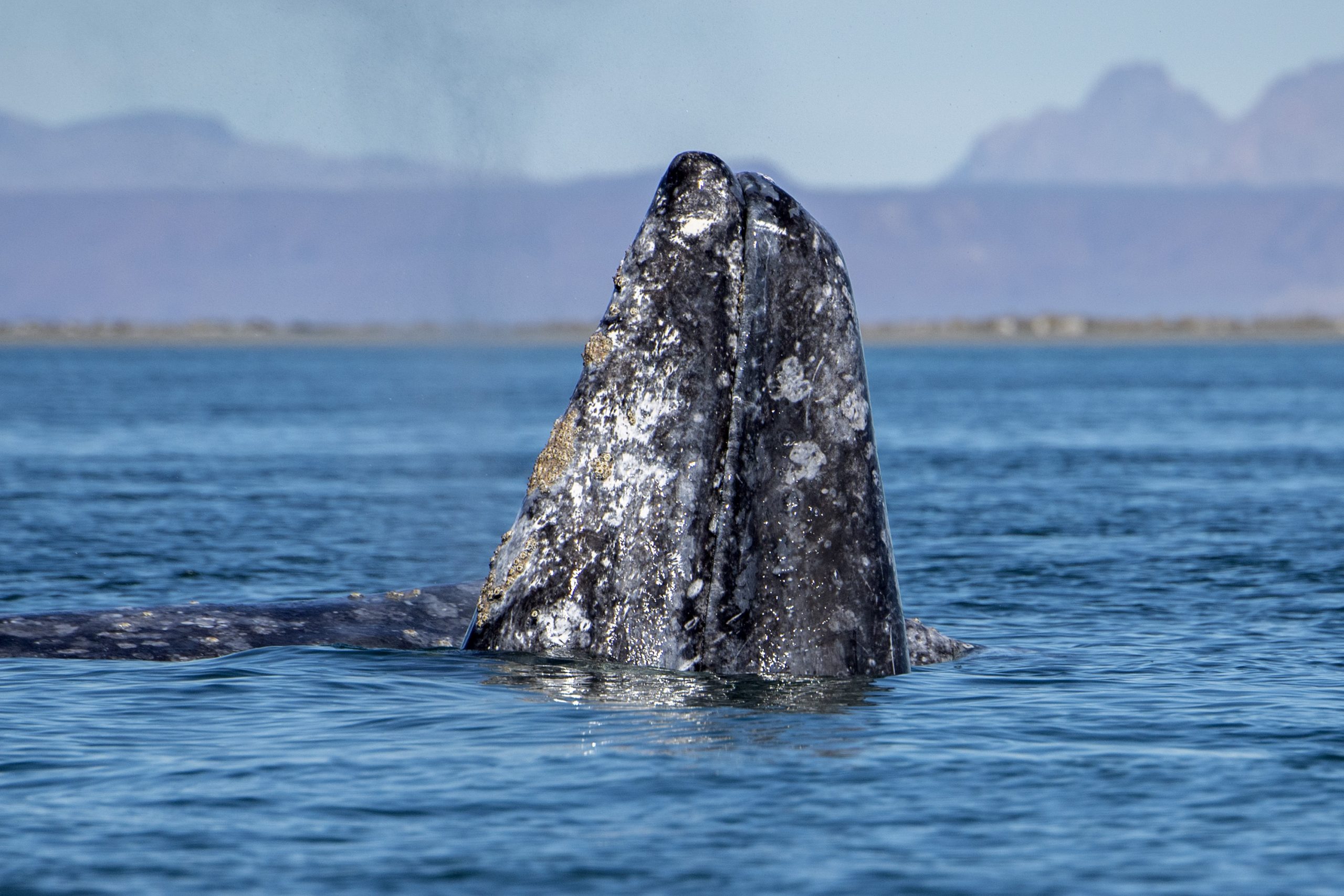 What kind of boat is best?
Larger vessels tend to be more stable and are a more comfortable ride for those who may be prone to sea sickness. The
Goddess Fantasy
is the largest, most comfortable whale watching boat in Moss Landing with a reputation for being clean, friendly, and knowledgeable. Not only that, but our Captain is experienced with Monterey Bay and delivers exceptional whale-watching experiences for both tourists and locals who come back time and time again.
Is it better to go in the morning or afternoon?
The great thing about Monterey Bay is ANY time is a great time to go whale watching. Here are some tips to help you make your decision:

Mornings – Typically lighter winds making it a better choice for those prone to sea sickness, cooler air temperatures, better light for photography!

Afternoon– Typically less fog, wind may pick up with a slightly bigger swell, more intense sun.

What should I bring?
Keep your gear to a minimum, but we recommend you bring a camera, sunscreen, a visor/cap and sunglasses. Wear light casual clothing, soft-soled shoes (like sneakers or sandals) and maybe a light windbreaker. You might want to bring a spare battery and memory card or film for your camera.
Do you offer private charters?
Yes, we do! Our private charters are popular for weddings, corporate events, special occasions, birthdays, holidays, reunions and more! Visit our Private Charters page for more information.
Directions
Highway 1 Northbound:

Turn left before you pass the smoke stacks after Surf City Coffee Co. and The Whole Enchilada restaurant onto Moss Landing Road. Make a slight right at Sandholdt Road and pull into the parking lot directly after the KOA RV park.

Highway 1 Southbound:

Turn right after the smoke stacks onto Moss Landing Road, just before The Whole Enchilada restaurant. Make a slight right at Sandholdt Road and pull into the parking lot directly after the KOA RV park.

Once You're There:

Follow the Whale Watching signs, and our check-in table is between the Harbor Master's office and the bathrooms, at the red arrow in the satellite view.
Parking
Parking permits may be purchased for $11.00* at the Harbor Master's office. Bathrooms are located to the right of the office.

FREE parking can often be found on the street outside the harbor parking lot. It is a short walk to the office for check-in and boarding.

*Subject to change as regulated by the Moss Landing Harbormaster
What to bring while Whale Watching on Monterey Bay
Clothing:

Dress in layers. It is always cooler on the water and the weather in Monterey Bay can be unpredictable. Prepare for rain or sea spray. We have plenty of room on the boat to store your bag if you bring extra clothes such as a waterproof jacket. For winter whale watching, a pair of gloves is important.

Sunglasses, Hat, and Sunscreen: For protection from the sun and glare off the water.

Binoculars: While the whales sometimes swim up close to the boat, binoculars are great for spotting some off in the distance.

Flat Shoes: Wear flat, closed toed shoes preferably with a rubber bottom like tennis shoes.

Food & Drink: You are free to bring your own food and drinks, but please no glass.

Camera: Cameras fully charged or with extra batteries and extra memory card. Please use a strap with your camera or your phone so it doesn't go overboard!
Trip Duration
Check-in time is 45 minutes prior to departure. Trips run approximately 2-3 hours depending on where the whales are.

Length of the trip depends on when and where we find whales. If we don't find any whales, your next trip is FREE. A rain check with no expiration will be given for another trip. We do not provide refunds.
Our Vessel Guidelines
Due to safety regulations, expecting moms and children under 3 are not allowed.

Our vessel is not wheelchair accessible and steps are used for boarding. We will do everything we can do to accommodate passengers, but please call if you will need assistance or have any questions or concerns.
Concerned about seasickness? Follow these guidelines.
Take an over-the-counter seasickness medication (Dramamine or Bonine) the night before and morning of the trip at least one hour prior. Anything taken immediately before the trip or after you already feel unwell is not worth taking and may make you feel worse.
Wear a relief band for motion sickness.
Choose a seat near the center of the boat where there is generally less motion.
Limit alcohol consumption the night prior.
Stay hydrated – avoid coffee.
Eat a bland breakfast with carbohydrates while staying clear of spicy foods.
Stay outside in the fresh air.
Bring crackers, ginger, or ginger ale or 7-up.
Check out this article on sea sickness here for more information.
How to Spot a Whale and Other Sea Life
It can be hard to spot a whale if you don't know what to look for. Fortunately, our crew of naturalists have over 25 years of experience to help you out! However, if you would like to learn more and test your skills, here are some tips that may help you see, and identify what they look like at the surface.

Scan from left to right, slowly, and then back again. Look close to shore, and look out across the horizon. Watch for anything that breaks the surface of the water.

If you are out on the water with us, we will be calling out locations relevant to the boat. Think of the boat as the center of a clock, and our naturalist will call out locations relevant to the front (bow) of the boat, which is designated as 12:00 o'clock. So, if the naturalist calls out 3:00 o'clock, that would be to the right of the front of the boat or 6:00 o'clock would be off the back (stern) of the boat.

Don't get fooled by items floating on the surface of the water. If you spot something that stays on the surface in the same location, it's not likely a marine mammal. Marine mammals are usually on the move and will typically surface, dive, then come up again in a different place. If you see a whale's tail, it is likely going down for a dive, and it will be a few minutes before you see it again. Don't forget, some whales can dive for 10 minutes, or longer, so keep looking in the general area where you first saw the blow.

Identifying factors of large whales include their blow, surfacing, and diving characteristics. Other factors to observe are:


Body length, color, and patterns
Shape of blow
Swimming characteristics
Presence and size of flippers
The shape of head and body shape
The first indication that you have spotted a cetacean is usually a blow, fluke, or splash.
How To Spot A Whale
Spouts of Blows
The shape and size of the blow are distinctive to each species, based on the size and shape of their blowhole. These plumes of water are formed when a whale exhales at the surface. They can look like puffs of smoke on the horizon. If you see something that looks like a blow, keep watching! The tallest blow belongs to the blue whale where blows of up to 12m (39ft 5in) have been reported. Gray whales: Have a double blowhole which creates a heart-shaped spout. Humpback whales: Have a tall, column-shaped blow. Orcas: Typically have a bushy-shaped blow.
Dorsal Fins
All cetaceans have dorsal fins or ridges, but the size, shape, and location on their backs differ. Gray whales: small dorsal ridges. Orcas: pronounced triangular fins that can grow to over 6 feet high on males.
Tail Flukes
Cetaceans have powerful tail flukes that propel them through the water. The shape and size of tail flukes are different for every species. Humpback whales: Distinctive markings on the underside of their tails. Gray whales: Flukes can span up to 10 feet. Killer whales: Undersides are mostly white and fringed with black.
Spotting Other Sea Animals
Dolphins
A large field of splashes and ripples may be the clue that Pacific white-sided dolphins are passing by. The Pacific white-sided dolphin travel in big groups of up to thousands of individuals and is a magnificent sight to see.
Sea Otters
Sea otters inhabit shallow coastal areas and prefer places with kelp. Kelp acts as an anchor that the sea otters use to wrap themselves in when they are resting. Sea otters are social animals. Pups, who stay with their mothers for the first eight months of their life tend to spend time together in one group and males in another. When mothers leave the pups wrapped in kelp to hunt, pups bob on the surface of the ocean like a cork. Mothers can also be seen carrying pups on their chests.
Harbor Porpoises
One of the smallest of the oceanic cetaceans, the harbor porpoise is shy and elusive, not inclined to approach boats and bow ride, as many other species of dolphins and porpoises do. Harbor porpoises spend lots of time swimming around looking for their next meal–alone or in groups of up to 50 porpoises. These animals can be easily detected by the loud puffing sound they make as they surface to breathe.
Birds
Birds, including pelicans dive down from the sky and feed on bait fish. If you see birds, you may want to start looking for whales and other creatures since they feed on the bait fish as well.