Find out why the Goddess Fantasy is considered the nicest boat for whale watching on the Monterey Bay! Our big, comfortable, clean, and spacious vessel is waiting for you to come aboard!


The Goddess Fantasy vessel is perfect for…
People prone to seasickness. Larger boats, such as the Goddess Fantasy can handle sea conditions with more ease.
Photographers. Photographers have consistently said they prefer Goddess Fantasy over any other boat because they can easily walk around our 360-degree main deck and upper deck viewpoint for wherever the whales appear!
Bathrooms. We run a spotless boat including our clean bathrooms. Both located near the stern (back) of the boat.
Marine Biologists. Guests frequently comment on how knowledgeable our naturalists are and how courteous they are when it comes time to sit back in awe during the acrobatic displays of the magnificent sea life.
MORE WHALE WATCHING TIME. Due to our location at Moss Landing near the mouth of the Monterey Submarine Canyon typically means less travel time to where the whales are feeding on the abundance of rich nutrients!
Sea Goddess Whale Watching promises you a once-in-a-lifetime experience. Our whale watching tours depart from Moss Landing, at the mouth of the Monterey Bay Canyon, one of the largest underwater canyons in the world! The canyon is a nutrient-rich zone that attracts all types of marine life, making Moss Landing the best place for whale watching tours in the entire state of California, and Monterey Bay including Santa Cruz and San Francisco.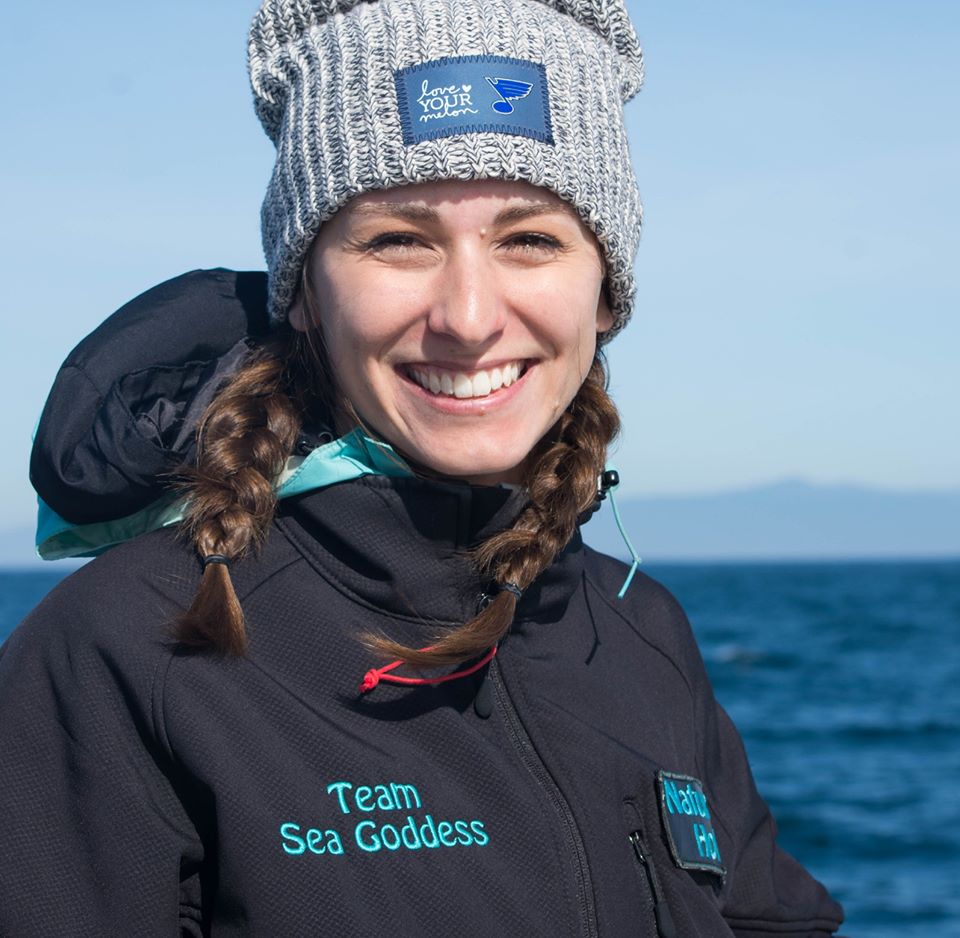 Holly Doerr
Naturalist/Deckhand
---
Holly is a current graduate student at Moss Landing Marine Labs, with dual enrollment in both the Ichthyology Lab and CSUMB's Environmental Physiology Lab. Her thesis focuses on the impacts of combined climate change stressors (ocean acidification and hypoxia) on the gene expression of three species of juvenile rockfishes.  Before starting the MLML program in 2016, Holly graduated from the University of Missouri – Columbia (MU; MIZZOU) with a B.S. in Biology. She has been a Naturalist/Deckhand with Sea Goddess Whale Watching since July of 2018.
Media
All Journalists, Radio, TV, Photojournalists & Bloggers Welcome!
We would love to hear from you regarding any upcoming editorials or stories you are working on. We welcome journalists, radio, TV, photojournalists, bloggers and all who are interested in learning about and doing a story on Monterey Bay and Sea Goddess Whale Watching. Journalists and photographers love Sea Goddess because we have a 360 walk-around deck. Therefore, you're never stuck in one place when sea-life appears! We have the top naturalists in all of Monterey Bay who would love to share their passion and knowledge with you! If you would like to request a media trip, please
contact us
and we will make every effort to work with you on your arrangements. All photos must be credited ©Sea Goddess Whale Watching. All Rights Reserved.